This will be an Exclusive Bollywood Retro Party, as most of the Music will be from the 90's to early 2k. Capacity Crowd Expected.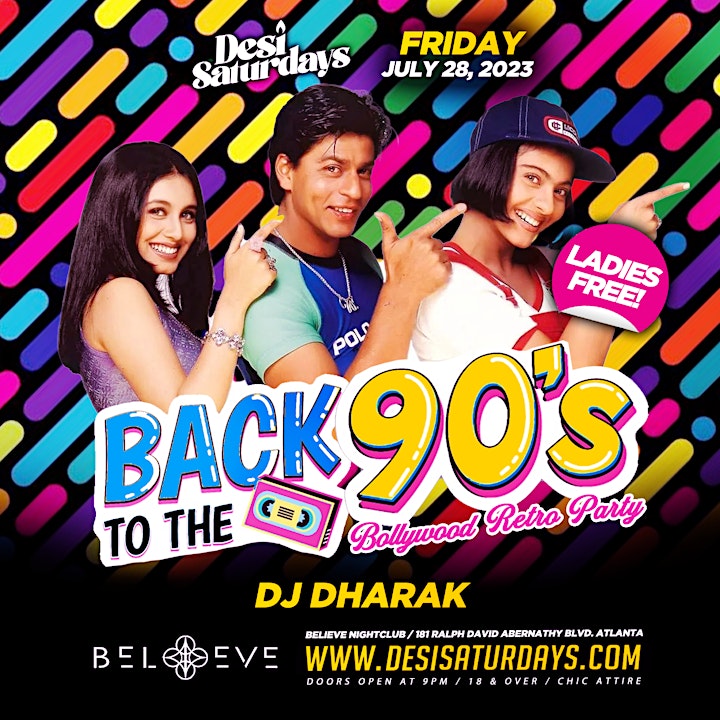 Desi Saturdays throw the Biggest Bollywood parties in the Nation , check out our past event highlights on our Instagram @DesiSaturdays & TikTok @Desi_Saturdays
▀▀▀▀▀▀▀▀▀▀▀▀▀▀▀▀▀▀▀▀▀▀▀▀▀▀▀▀▀▀▀▀▀▀▀▀
★★★ FRIDAY JULY 28TH 2023 ★★★
▀▀▀▀▀▀▀▀▀▀▀▀▀▀▀▀▀▀▀▀▀▀▀▀▀▀▀▀▀▀▀▀▀▀▀▀
Bollywood Retro… What does it mean? Today is tomorrow's yesterday and retro means anything from the past… so yes, today is tomorrow's retro!
Bollywood Retro Party will bring you the best dance music from the 90's through early 2k….music that transcends time. Our Retro concept was born from a desire and need to bring back the Bombay era….and now it's more than just a dream, it's a reality! Experience it, embrace it, live it…..be part of it!
The most authentic & hottest Bollywood Party in the heart of Atlanta with India's # 1 DJ spinning The Latest & Retro Bollywood Bangers!!
MUSIC: Get Ready, to groove on to some of the most popular Bollywood Dance Music from the 90's through early 2k and show us your amazing moves on the dance floor……
★ DJ DHARAK ★
This is an exclusive 90's Bollywood Party, as most of the music will be from the 90's to early 2k. Please avoid disappointment if you are not the Bollywood Music Lover and expect any other music to play at thI amazing party.
Venue : BELIEVE MUSIC HALL
181 Ralph David Abernathy Blvd. Atlanta, GA.
Originally built in 1900's, the repurposed church was transformed into a groundbreaking multi purpose venue; the Believe Music Hall. The interior design ensures unobstructed sight lines to cutting-edge high-end production. Comprised of four separate spaces that are arranged over three levels, the venue features two full stages, a mezzanine and two outdoor terraces with breathtaking views of ATL skyline.
At its core, BMH focuses on high quality production coupled with a multi sensory experience that sets the venue apart from rest. And party goers can have up close view of main stage from the large open dance floor; or opt for high energy VIP experience at one of the elevated VIP tables. The choice is yours!
▀▀▀▀▀▀▀▀▀▀▀▀▀▀▀▀▀▀▀▀▀▀▀▀▀▀▀▀▀▀▀▀▀▀▀▀
Book a VIP Table ★ Text/Call : (908) 425-1603 ★
▀▀▀▀▀▀▀▀▀▀▀▀▀▀▀▀▀▀▀▀▀▀▀▀▀▀▀▀▀▀▀▀▀▀▀▀
TERMS & CONDITIONS :
18+ VALID PHYSICAL Government issued ID is mandatory for Admission
No Photocopies/Phone Copies of IDs are accepted.
Dress Code: Upscale, Fashionable, Chic Attire
No Large Groups Of Males – Mixed Groups Only!
Strictly No refunds. Tickets are non-refundable and transferable!
We take pictures and capture videos of our events for marketing purposes. Please email us at DesiSaturdays@Gmail.Com or message us on Instagram/Facebook/TikTok at "desisaturdays" handle if you need to request removal of content from our page. Content removal will be at our discretion.
Behavior : Management reserves the right to remove any guest from the venue for any reason. Rowdy and unruly behavior will not be tolerated. You are ultimately responsible for all of the guests at your party. We operate a zero-tolerance policy on touching & harassment.
Guests must not, under any circumstances, touch or talk to any of the staff, servers, performers or other patrons in an inappropriate manner. Venue Management retains absolute discretion to decide what is 'inappropriate'.
If you or a group member acts in a manner that our management judges to threaten or disrupt the safety or enjoyment of others or acts inappropriately we may remove you from the premises and no refunds will be given.